Funded By
SportsUnited
Sport Diplomacy has emerged as an integral part of efforts to build ever-strengthening relations between the United States and other nations
Funded through a cooperative agreement with SportsUnited, a division of the U.S. Department of State's Bureau of Educational and Cultural Affairs, the Center for Sport Management provides program support for SportsUnited. A program has been developed, in partnership with other organizations, to implement sport-based cultural exchange programs for sport visitors.
SportsUnited Programs
The Center for Sport management provides comprehensive programmatic, logistical, and administrative support for eighteen cultural exchange programs conducted for the U.S. Department of State through the Bureau of Educational Cultural Affairs' Sports Visitor Program. The Center's objectives for this program are to: (a) foster opportunities to develop cross-cultural understanding; (b) facilitate interactive exchanges to build relationships; (c) impart information about the United States; (d) provide opportunities for skill development; and (e) develop strategies for dissemination of participants' experiental learning outcomes. A full-time staff member from the Center provides on-site programmatic, logistical, and administrative support for each program.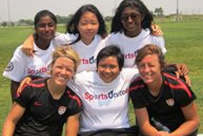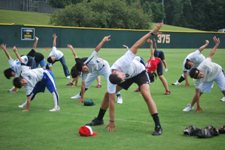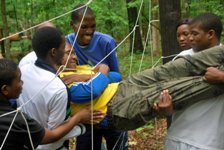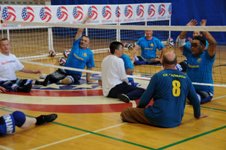 The Center for Sport Management has had the opportunity to work with the following countries under SportsUnited's Sports Visitor Program: China, Kyrgyzstan, Honduras, Russia, Jamaica, Swaziland, Iraq, Saudi Arabia, Kazakhstan, Japan, West Bank, Tajikistan and others. Participants in these programs include young athletes and coaches.
Check out pictures of the SportsUnited Programs on our Gallery page
SportsUnited Alumni
Stay connected with both the Center for Sport Management as well as the SportsUnited Program on Facebook!
Join the SportsUnited listserv for the latest news and information.
Register with the International Exchange Alumni to stay in touch with other alumni and be eligible for grants to fund your action plan projects.
Visit the Alumni Engagement Innovation Fund website for information about grants that are available for teams of alumni to carry out public service projects using skills developed during their exchange experience.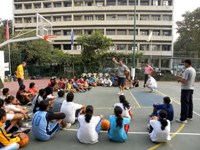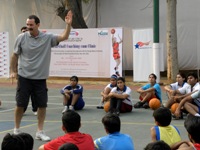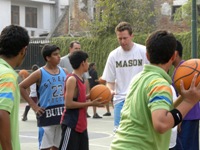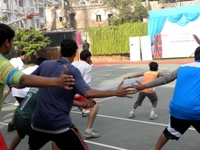 Basketball Clinics - India
The Center for Sport Management, in partnership with JD Walsh Basketball School, the Basketball Federation of India, the West Bengal Basketball Association, the Delhi YMCA, and other in-country partners, collaborated to implement a cultural exchange program using the universal language of sports, in this case, basketball. Robert Baker, Craig Esherick, and JD Walsh coducted basketball clinics for coaches and youth from Delhi, Kolkata, Bangalore, and Chennai, using basketball instruction to highlight the power of sports to unite people. The cultural exchange effectively used basketball to discuss work habits, to explain the value of education, to talk about life lessons learned in playing together with teammates, and to further enhace the special relationship between Americans and Indians.
Follow-ups with the coaches from the India clinics and with the coaches from the Coaching Academy show that they have begun to implement their own strategies, such as conducting their own clinics for children and coaches, implementing learned techniques in their administration and coaching, and forming a new non-profit organization to assist disadvantaged children through sport.
Click here to view the YouTube video: Mason Takes Basketball to India.
Click here to view the article from George Mason University on this program.